Je t'aime, Paris…if only it were easier to do it on the cheap. Good news: A little spending creativity (and arrondissement sleuthing) goes a long way. Here, seven ways to save big on your next trip to the City of Light.
Stay in the Bastille or Montmartre for Better Airbnb Rates
Sure, Saint-Germain-des-Prés is lovely—and central—but you can get a much better rate if you stay somewhere on the outskirts of town. The Bastille and Montmartre still offer all the quintessential Paris things (pretty rooftops! delicious baguettes!), but your accommodations, like this one-bedroom or this studio, don't have to blow your entire travel budget. (Rather, you can expect to pay $50 to $100 per night.)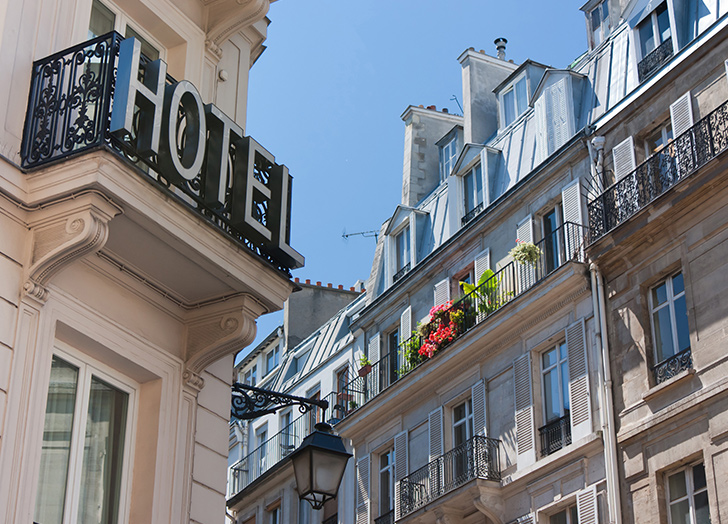 tristanbm/Getty Images
…Or Travel in the Off-Season if You Prefer a Hotel
High season in Paris is May through the rest of summer, so if your dates are flexible, vacationing in late fall/early winter almost guarantees that you'll be able to find a much more affordable rate. Again, opt for boutique hotels on the outer edges to score a better deal.

halbergman/Getty Images
Buy Metro Tickets in Bulk
Taxis add up, not to mention the Paris subway system will get you wherever you need to go. But if you're going to be taking it all over town from the Tour Eiffel to the Champs-Élysees, it's much more economical to buy your trips in bulk. Case in point: A single ride will set you back 1.90 euros—about $2—versus a ten-pack of metro rides, which will cost you $15. (Hey, even $5 saved adds up.)

AndreyKrav/GettyImages
…And Treat Yourself to a Paris Museum Pass
We get it: It feels a little touristy, but if you're planning to pay your way into a ton of museums anyway—like the Louvre and the Musée d'Orsay—you might as well pay the bulk rate and save yourself oodles of cash. Here's how it works: The cost of a two-day pass (about $50) gets you access to more than 60 museums and monuments in the city. If you're planning to go to more than three museums during your trip, go with the pass. (Even better, you get to skip all the lines. And time is money, baby.)

olyniteowl/Getty Images
Pick Up Lunch at the Farmers' Markets
Seriously, it's where you'll find some of the best deals on meats and baguettes and fromage. (Pastries, too.) There are different markets open almost daily—just check the calendar to find the ones that fit into your schedule.

AlexKozlov/Getty Images
…Then Eat it Outdoors in One of the (Many) Parks
The area in front of the Tour Eiffel. Luxembourg Gardens. The Tuileries. There are so many colorful and grass-filled options sprinkled all over Paris. Skip the pricey lunch reservation and tote your snacks from the farmers' market instead. You'll be just like the locals, but it's also a cheap and easy way to see all the sights.

Getty Images
Order the Wine
Yep, the best part about Paris is that, in most places, wine is the cheapest thing on the menu. A glass of red—or rosé—will set you back $4 to $5, versus expensive cocktails or imported beers. So, bonne santé (aka cheers!).
This article was written by PureWow Staff from PureWow and was licensed from NewsCred, Inc. Santander Bank does not provide financial, tax or legal advice and the information contained in this article does not constitute tax, legal or financial advice. Santander Bank does not make any claims, promises or guarantees about the accuracy, completeness, or adequacy of the information contained in this article. Readers should consult their own attorneys or other tax advisors regarding any financial strategies mentioned in this article. These materials are for informational purposes only and do not necessarily reflect the views or endorsement of Santander Bank.